Men's Black Oxfords
Free Shipping to USA, Canada and Europe
Ships in 2 days
---
Men's Black Oxfords - 4 / Leather Outsole with Copper Rivet is backordered and will ship as soon as it is back in stock.
---
Couldn't load pickup availability
Atlantis Shoes should fit snug as they will stretch. Please follow ourSize Chartto find your matching size. It is important to measure your foot on a flat surface with your heel against a wall or straight edge. Use a ruler to measure the length in millimeters or inches from the tip of your longest toe to your heel. Keep in mind that your longest toe isn't necessarily your big toe!
Free shipping to US, Canada and Europe.Learn More.We offer easy exchanges and returns within 30 days of receiving your order.We do have warehouses both in the USA and Europe.Learn More.
Our high quality, all-natural leather requires minimum maintaining. All you need to do is maintain the leather and replace the rubber outsole as it gets worn down.Learn More.
Made in Turkey
100% Handmade
100% Natural
Hand-Stitched
Natural Leather Upper
Natural Leather Lining
Water Buffalo Leather Sole
"Zero-drop" non-elevated heel for proper posture
100% Copper Rivet conductor hand-hammered through sole
Full-Grain Leather Laces
Payment & Security
Payment methods
Your payment information is processed securely. We do not store credit card details nor have access to your credit card information.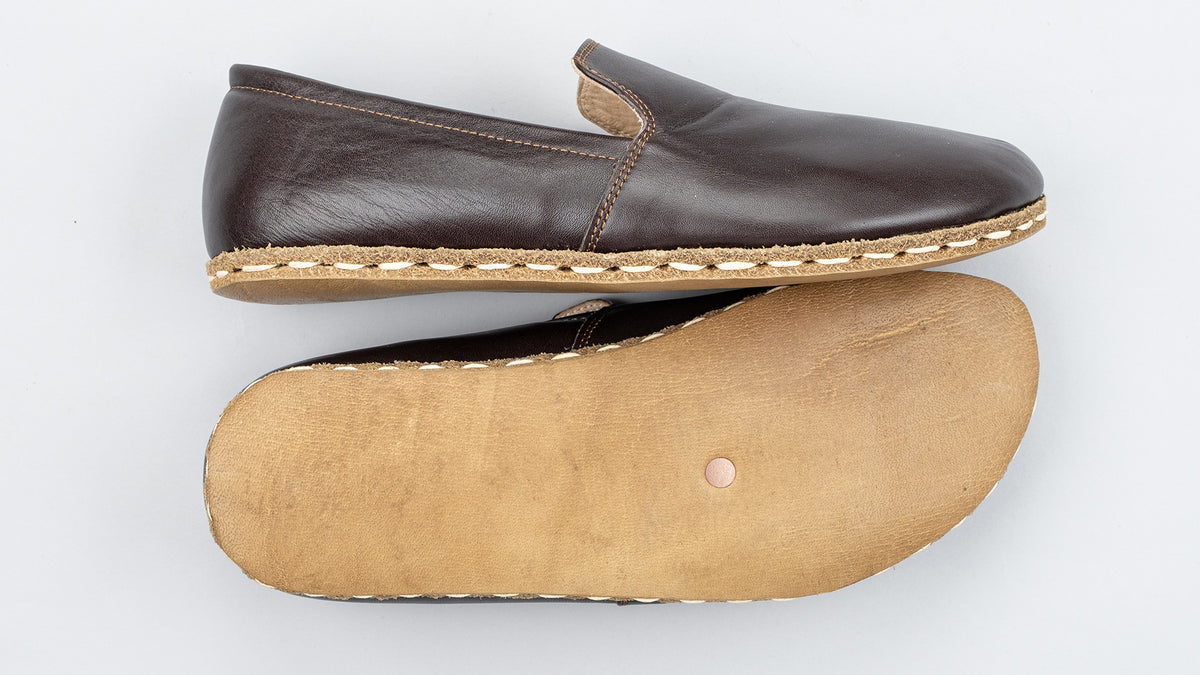 Frequently Asked Questions
What is the difference between leather outsole and rubber outsole?

We have two types of outsoles: Leather and rubber. Leather outsoles are %100 natural. They are flexible and softer than the rubber outsoles. We hand-hammered copper rivets to the bottom of them to release static electric from the body like walking barefoot on mother earth. Please note that we can only apply copper rivets to our loafers, oxfords, sneakers, and slippers. Because of the lack of space inside the boots for our hand to hand-hammer them, we can't apply them to boots.
We also don't apply them to sandals. Sandals would be subject to sunshine a lot and sun can darken the coppers with time. The cons of the leather outsoles are they are slipperier than the rubber outsoles. We don't use any glue or chemical materials, we hand-sew leather outsoles to the shoe.
The rubber outsole is glued to the leather sole. They protect both leather sole and shoe's structure. They are not slippery like leather outsoles. They have more grip on surfaces. They are not as flexible as leather outsoles. Also, we can't hand-hammer copper rivets to the rubber outsole because of its soft surface. They are still considered barefoot shoes because they are still zero drop shoes, and the rubber sheet is only 2mm. You will still feel the ground with them.